10 Brands Tamping Rammer Compactor: Which One Is Better For You
A tamping rammer compactor is a device that enables aggregate or another powdered or granular substance to be compacted or lowered, usually to increase its density or to make it resistant to further compression.
Suitable for compacting ground for ducts and pipes, roadway construction, and landscaping, the tamping rammer compactor is an ideal machine to be used in these applications.
In this article, we will be discussing 13 brands of tamping rammer that will guide you on which one is best. We will be listing specifications or key features for you to better understand the quality and usefulness of the product.

There are four different models of tamping rammers by Bomag. These BOMAG tampers with 4-stroke engines are ideal for trenching, sewage systems, landscaping, compacting backfill, repairing foundations, and patching up.
Operating ease, durability, and high performance are their strong points. With decades of compaction experience, BOMAG offers tamper compactors and multi-purpose compactors. Few salient of the machine are:
Engine Protection System
Protective engine covering
Automatic oil level control
The dual-fuel filter system
Vibration insulated steering bow
Self-cleaning air filter housing
Protective covering
Single point lifting device
Recoil starter
Plastic castor as loading aid
Infinitely variable frequency
Combination of engine stop/fuel switch
3-2-1 Warranty
Wacker Neuson

There are three different types of tamping rammer by Wacker Neuson: 2 strokes, 4 strokes, and battery models.
For indoor construction and renovation projects, and use in areas with low ventilation, such as trenches and sound-sensitive areas such as hospitals, the AS50e, and AS60e cordless, battery-powered rammers are ideal.
Push buttons are easy to use and the device is easy to maneuver along walls. It is easy to replace the battery without special tools since it is separate from the rammers.
High performance and long life are the hallmarks of Wacker Neuson's two- and four-stroke rammers. With fast advanced travel and a high energy stroke and percussion rate, the long shoe stroke and high percussion rate deliver top compaction results. Compaction of cohesive and mixed soils in trenches and other confined areas is made possible by the compact design and low center of gravity.
There are three models of 4 stroke rammers: BS50-4As, BS60-4As, BS70-4As. Few salient of the machines are:
Operating weight 143 lb
Ramming shoe size (WxL) 11 x 13.4in
L x W x H 26.5 x 13.5 x 37 in
Percussion rate max. blows/min 680
Stroke at the ramming shoe 2.2 in
Impact force 3,597 lb
Operating speed 23.3 ft/min
Enarco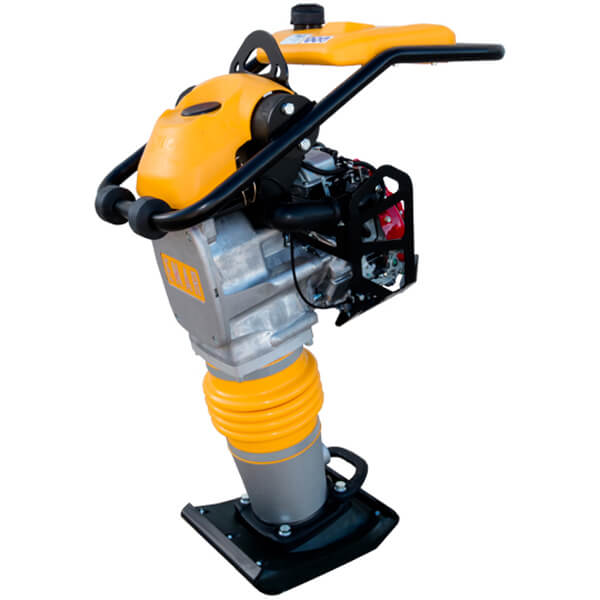 Enarco is a Spanish brand of construction equipment. It has only one model available for tamping rammer named Tamping rammer DEEP. Following are the key features of the model.
4 strokes petrol or diesel engines. Light and wear-resistant foot for optimum soil compaction. Three-stage air filter 3S: • 1S separates the heavy dust particles. 2S stops bulky particles. 3S removes the finer particles completing the filtering process
Easy to use throttle protected against blows and drops
Easily load and unload vehicles with the robust, ergonomic handle and wheels integrated into the handle
Cast aluminum structural parts that have been thermally treated. Protections specific to each engine
Compacting floors can be done using different frequencies, impact forces, and widths. Gutter work and narrow areas are ideal for this product
Options: – Tachometer with operating hours and RPM indicator.
Sensors for detecting air filter saturation, which result in enhanced engine life through optimal maintenance.
Hisaki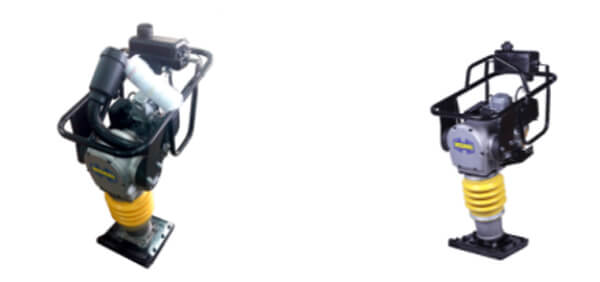 Hisaki offers three models of tamping rammers: YTR 68, YTR 81, and YTR 82. These are gasoline-powered models weighing around 80 kgs. All the models offer an impact force of around 1200 lbs with a stroke of 50 to 80 mm. Some of the key features of the models are:
Kickback-absorbing shock absorbers
Reduces vibration from hard-arms and improves operator comfort with heavy shock absorber
System of oil bath lubrication
Yellow below
With its steel plate and wooden insert, this rammer shoe offers economy. To prevent easy damage to the fuel tank, it is made from steel
The top frame cover protects the engine from damage
Casting with a strong body for long-term durability
Husqvarna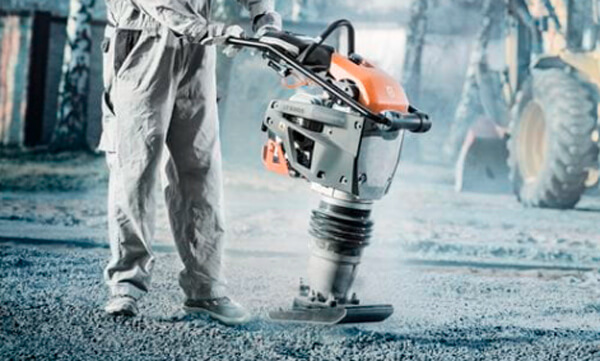 Husqvarna has only one model available for tamping rammers named LT6005. LT 6005 is a well-balanced, powerful rammer developed for efficient compaction of clay, silt, and granular soil. Compacts well in trenches or narrow spaces, such as around pipes and pillars.
This rammer is equipped with the latest Honda GXR120 engine, which is designed specifically for rammers. Rammers offer excellent control, low noise, and low emissions. Some of the specifications of the model are:
Motor/engine model 4-stroke air-cooled
Output power (As rated by the engine/motor manufacturer) 2.7 kW
Speed 16.5 m/min
Weight 69 kg
Mikasa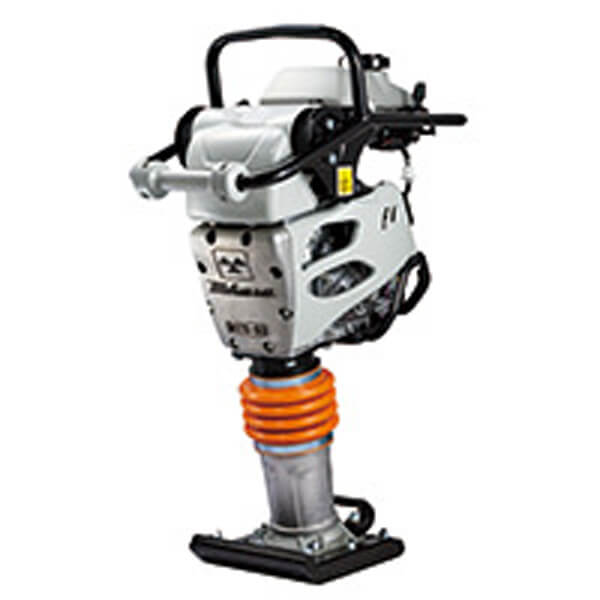 Mikasa has three series for the tamping rammers: MTX, MT, and Trench rammer. All the models are powered by Honda gasoline or diesel engines. The specially designed vibration system allows having 30 to 40% fewer vibrations. Following are few general specifications of their models:
Weight: 62 Kg
Dimensions: 1,035 x 370 x 730 mm
Plate Size: W1: 265 mm, L1: 340 mm
Jumping Stroke: 30 – 70 mm
Impact Force: 9.8 kN (1,000 kg)
Impact Number per Min.: 644 – 695
Fuel Tank Capacity: 2.0 L
Power Source: Honda GX100, Gasoline, Max Output 2.1kW (2.9PS)
Tiger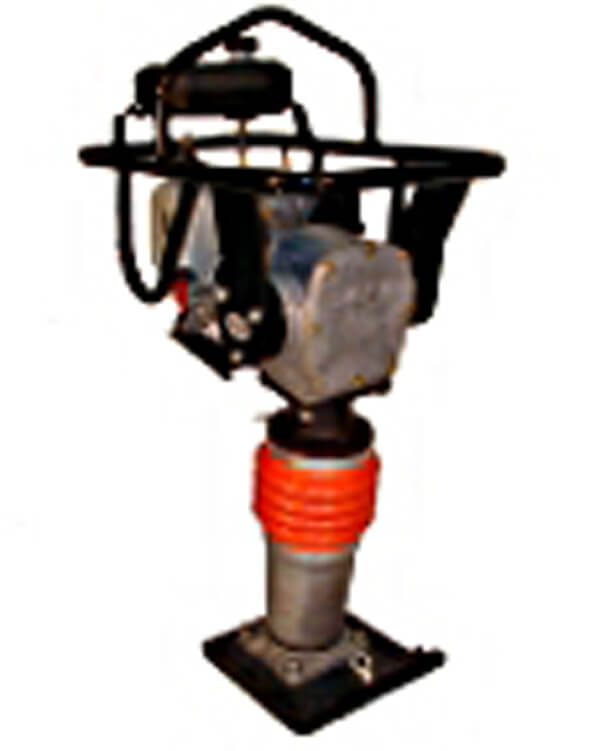 In addition to reducing maintenance costs, Tiger ProRam rammers (3 models in total) help your bottom line by eliminating the hassle of mixing fuel oil.  Your rammer will never require pre-mixing again, whether you're a rental store or a crew of workers!  Regardless of model, all models have an excellent balance and can stand upright on flat dirt – even at full throttle! This makes the operator's job easier and results in a happier, less fatigued operator. Few salient of the models are:
Superior balance, easy on the operator
Quiet running, easier on the ears
Meets EPA specs, less pollution
Straight gas, No mixing!
Quality components – less maintenance
Reliable Honda Parts and Power
Toku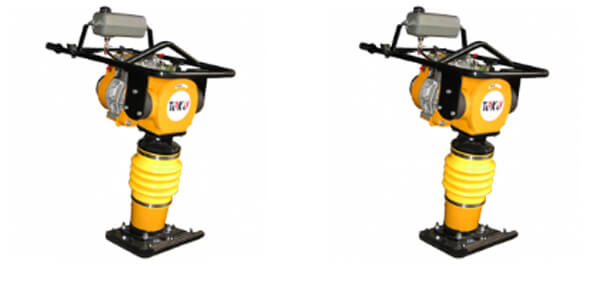 Toku tamping rammer TK72BSR comes with petrol engine TK72BSR. It has the following key features:
A tamping plate made of high-quality aluminum or steel alloy offers durability.
High-performance engine.
360mm (L) x 300mm (W) plate size design for good balance and better tamping efficiency.
Specially designed handle with anti-vibration rubber-mounted to reduce operator fatigue during operation.
Direct drive from engine, powerful, stable in usage.
Engine Robin EH-12D
Max Output (HP/rpm) 5/3000
Fuel Gasoline
Shoe Size (L x W)mm 330 x 280
Blow/Min (vpm) 630 – 700
Fuel Tank Capacity (Liters) 0
Fuel Consumption (Liters/hr) 1
Travel Speed (m/min) 9 – 10
Impact Force (kgf) 1400 – 1600
Lubricating System Oil Bath
Weight (kg) 72
Diameter (L x W x H) mm 760 x 410 x 1045
Tomahawk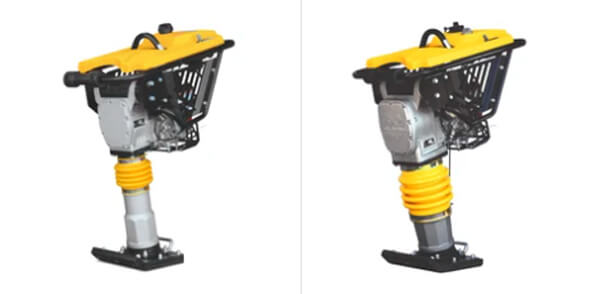 Tomahawk tamping rammer compactor JX60H provides excellent maneuverability in confined areas, such as trenching, backfilling, and repairing asphalt. Compacting low-water roadbeds and placing them where heavy vibratory plates cannot be used is particularly useful.
With its dependable Honda GX100 four-stroke engine, it delivers controllable and skillful jumping motions while providing low emissions and low noise levels.
Thanks to its specially crafted throttle control and heavy shock-mount system, the JX60H's 13 in. x 11 in.' laminated wood and steel shoe can absorb and resist the strongest vibration shock on the toughest job site applications. Its lightweight design offers optimum compaction depth and high-speed performance, delivering an incredible 3,350 lbs. per square ft. Designed to protect the engine cover and recoil starter during operation, these engine cover guards and engine side guards offer outstanding durability.
For long life and durability, the bellows on the JX60H are made of polyurethane, ribbed, as well as plastic oil tanks. A specially designed trolley kit allows easy and convenient loading of the machine and transport, and it can be used with ease and convenience. These are some of its features:
Performing field density tests and nuclear densitometers, and achieving 100% compaction
Laminated 13 in. x 11 in. wood and steel shoe
Using 3,350 pounds of force to control jumping motions
Compaction of cohesive and granular soils up to 26 inches.
Easy loading and unloading with lifting handles and wheels
Belts with ribs, manufactured in Germany, provide a longer service life
The engine has a three-year warranty and the product has a one-year warranty
Weber

Webber tamping rammers come in two series SRE and SRV. There are both gas and battery-powered models. With their significantly increased stroke and impact power, these rammers compact even faster and more efficiently.
The Weber MT has not only increased impact power but has also made significant progress towards operational comfort. Narrow guide bars, optimized tamping feet, and modern engines all provide maximum comfort to the operator. Few specifications of their models are:
The low hand/arm vibrations enable the operator to work for long periods.
The tamping system is proven, powerful, and rugged.
Low-emission gasoline engines with four strokes.
The engine is protected against harmful contaminants by the multi-stage air filtration system with a cyclone pre-cleaner.
Clean fuel is filtered in the tank and the line.
Impacts from stones are prevented.
A safe height is maintained for the belts.
An angled throttle control lever controls the output of the tamper.
Warranty without restrictions for two years.
Conclusions
To conclude, there are several brands of tamping rammers compactors. For you, the best one depends on your job demands like the amount of compaction required and area or compaction. It also depends on budget and equipment delivery constraints.