8 Brands Vibratory Plate Compactor,Which Is Better For You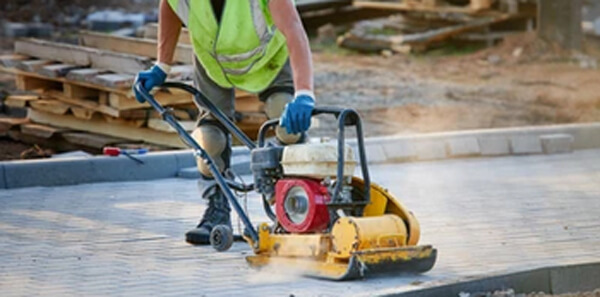 They are the lightest and smallest plate compactors. Because they can only move forward, not backward, manoeuvrability is limited. These compactors typically exert a force of between 3,000 and 5,000 pounds and are good for compacting smaller areas of dirt, gravel, or asphalt.
In this article, we will discuss various brands of vibratory plate compactors, which will guide you on which one to buy.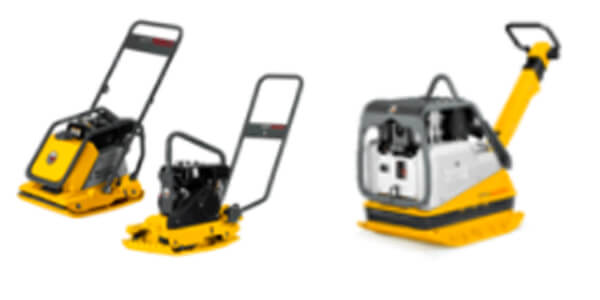 They have three models
AP1840e AP1850e: Vibratory plates powered by batteries provide the following advantages: energy-saving, 100% emission-free operation, and energy savings of over 70%. Compared to their conventionally powered relatives, these vibratory plates perform just as well.
VP- Value Plates – Soil and Asphalt: Gasoline-powered vibratory plate with basic features for confined spaces. Ideal for paving stone, asphalt, and soil compaction jobs.
Single direction Vibratory Plates – WP-Premium Plates: It offers a variety of soil and asphalt applications by offering industry-standard components and features.
In addition to these, they also have reversible models.
The traditional gasoline model has the following features:
Operating weight of 115 lbs.
The centrifugal force of 2248 lbs.
Frequency of 98 Hz.
In both hot and cold asphalt compaction, water tank models provide excellent results.
When turning the equipment, the tapered base plate with rounded edges prevents undesired edges from forming.
Construction design minimizes maintenance: The protected belt drive prevents belt wear.
Operators can load and unload easier due to ergonomically designed lifting handles.
It is possible to move the plate easily around a job site and along the floor of the shop with an accessory wheel kit.
Mikasa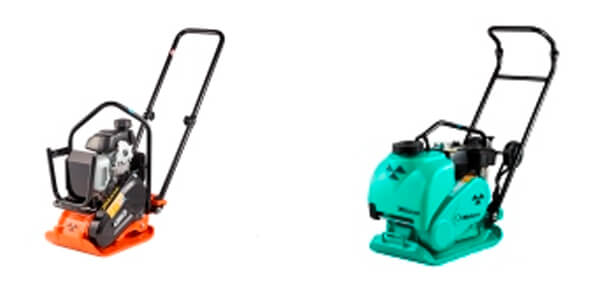 They have three lines of the vibratory plate compactor. All models are gasoline powered.
Heavy-duty line
Standard line
Interlocking block plate
Some of the common features among their models are:
Compaction (centrifugal) force is generated by rotating one eccentric rotor and the machine starts moving.
Light and manoeuvrable. This product applies to any surface work.
Light and manoeuvrability. Very suitable for every surfacing work.
Operating weight of around 100 kg.
Centrifugal force up to 1600 lbs
Wen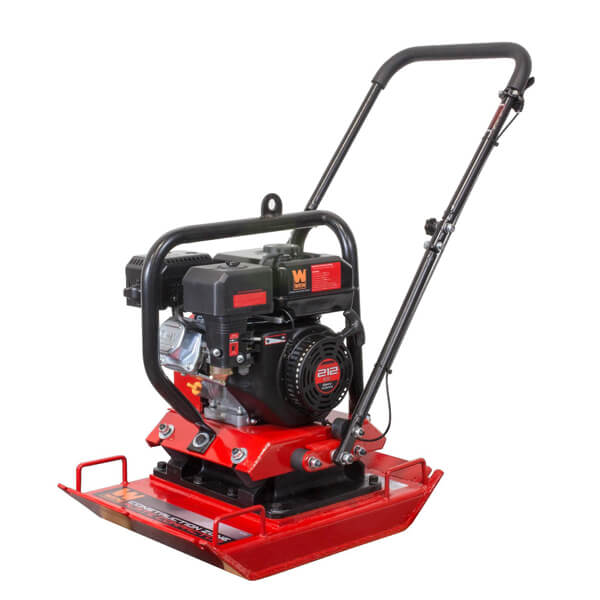 They have only one model in their vibratory plate compactor line: WEN 56035T 7 HP 4500-Pound Compaction Force Plate Compactor, CARB Compliant. It has the following features:
An engine with 212cc is larger than most in its class, producing 4,496lbs of force at 5,400 blows per minute
Compact shape and a unique swing-over handle make this device easy to maneuverer
82 feet per minute single direction plate travel speed.
In conjunction with the welded steel plate, vibration isolators minimize engine vibration, extending its lifespan
A central lifting/load bar and lift handle on the plate allows for easy transport.
The 212cc/7hp engine generates 4,496lbs of force at 5,400 blows per minute, resulting in a robust, level foundation from loose granular soils, gravel, sand, crushed aggregate, and other media.
One-gallon fuel tank provides enough power to work for an extended period thanks to high-density foam in the handles.
A tough powder coat finish prevents rust from forming.
Bartell
They have eight models of vibratory plate compactors in the BR and BCF lineup. All of them are gasoline operated with some models have hydraulic mechanisms. There have 2 main types of plate compactors. Forward and Reversible Some features are:
Compaction can be done forward, backward, and spot-on due to the hydraulic reversing mechanism
Aluminum throttle levers for tamping that are more durable, professional, and stronger
Protects the engine and guide hooks better with a new closed style frame
Enhanced clutch and engine longevity with aluminum belt covers
Durable and strong ductile iron bases
Urethane mats and extension plates can be ordered as an option
Compaction force more than 10,000 lbs.
Operating weight of 772 kgs.
Yardmax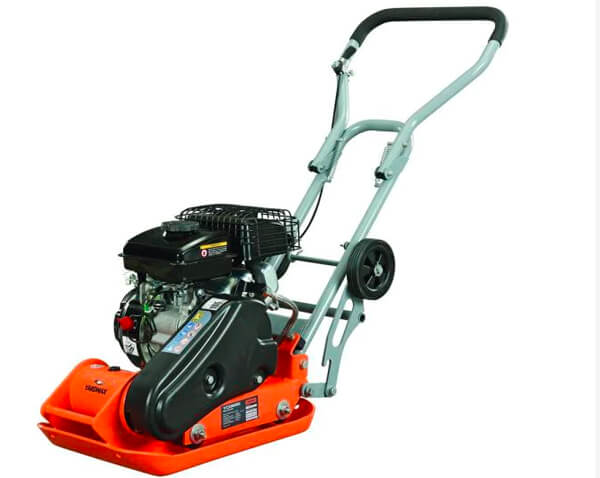 They have three models for vibratory plate compactors:
1850lb Compaction Force Plate Compactor
2500lb Compaction Force Plate Compactor
3000lb Compaction Force Plate Compactor
The most common features among these models include:
The 6.5 HP Briggs & Stratton OHV engine delivers precise power while delivering cleaner, more fuel-efficient results.
With stamped 1-piece plates, you won't have to worry about rusty weld beads – plus they're stronger, flatter, and smoother.
Standard with the vibrator is fold-up transport wheels which can be used at any time.
Handles that are mounted on three points absorb vibrations and allow easy folding.
It delivers 5500 blows per minute and is self-propelled, 208cc.
For safety and convenience, gas tank strainers and antisplash devices are included.
Engine control is improved with centrifugal flyweights.
A special stamping pad may be used between the plate and the stamping surface to achieve a delicate finish.
Bomag

They have in total 8 models in their BV and BVP series. They also have reversible models. They are fitted with special base plates makes them also ideal for asphalt surfaces. Some common specifications for all models are:
Vibration insulated steering bow (BVP10/30)
Detachable steering handle
Highly wear-resistant base plate (BVP10/30)
Highly wear-resistant cast iron base plate (BVP12/50A)
Automatic shutdown at the low oil level
Recoil starter
Single point lifting device
Fully protected V-belt
Carrying handles
They have an operating weight of 100 lbs
Can exert a force of more than 2200 lbs.
6000 vibrations per minute.
MBW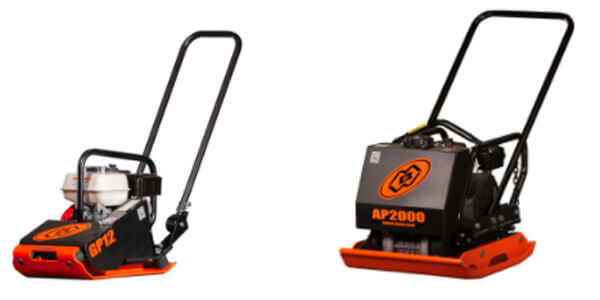 MBW has six series of vibratory plate compactors:
1000 Series: This series of economical vibratory plates are portable and offer outstanding compaction performance.
2000 Series: The finest asphalt plate available offering an efficient watering system; stress relieved, crack-resistant, solid steel base plate, and full roll cage protection.
3000 Series: The 3000 Series Vibratory Plates are THE premium, high production compactors.
5000 Series: Maintains its predecessor's outstanding performance while improving ergonomics, ease of service, and product life expectations
Small Reversibles: Compact reversible plates for confined areas and trenches. 15″ and 18″ base plates offer versatility.
Hydraulic Reversibles: Mid to large size reversible plates with hydrostatic shifting for infinite forward, reverse and spot compaction. Two models are available.
Common specifications among all models are:
Operating weight of around 220 lbs.
The centrifugal force of 3350 lbs.
During operation, the base plate is self-cleaning with an open-sided design that allows the material to flow out and away from the belt/pulley assembly.
In addition to reducing hand/arm vibration, protecting the user's full roll cage, enhancing amplitude, and facilitating faster travel speeds, all models also offer a rugged design with an updated appearance.
The deck features a full roll cage as standard equipment with provisions for a water tank for asphalt compaction
Dynapac

Dynapac has nine models for vibratory plate compactors. All of them have an operating weight of around 200 lbs and are gasoline-powered. The enclosed belt drive protects the V-belt from sand and stones, increasing its lifetime. Wear resistance is excellent with heavy-duty base plates. Additionally, the tubular frame protects the power-pack from rough handling during the life of the plate. Some of the common features among all models are:
Vibration-isolating folding steering handle
Highly durable base plate
Decompression is automatic
The V-belt is protected from all sides
Protective frame for power packs
Starter for recoiled springs
Handles for easy transport
There is a one-point lift
7 liters of water sprinklers (+7kg)
This model features a comfortable handle
A puncture-proof transport wheel (+4kg)
This is a block paving mat
A service kit is included
Operating weight of 229 lbs.
The centrifugal force of 4000lbs
Compacting frequency of 90 Hz.
Conclusions
To conclude, there are several models available in the market for vibratory plate compactors. If you are looking for some high-end compaction, we recommend you to go for  Bartell. The other brands have vibratory plate compactors in more or less the same range of specifications. Usually, a compaction force of 3000 to 4000 lbs is supplied with the frequency of 80 Hz. Both gasoline and battery-powered models are available. Battery-powered models are much quieter. However, they have less compaction capacity and are recommended for small projects.