5 Types Rod Cutting Machine: At Least One You Haven't Seen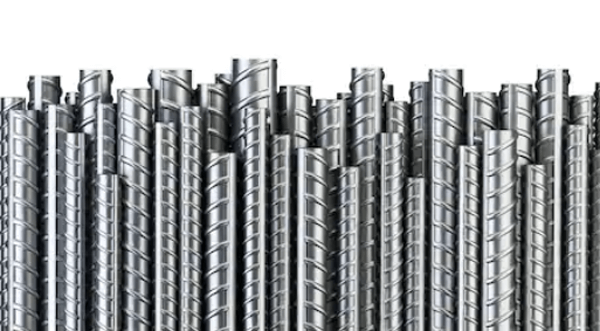 Steel rod cutting is a very important step at a construction site. Steel rods, when manufactured, are long in length and need cutting. These metal rods can be of any type like iron rods, pipes, or carbide rods.
For this purpose, different types of steel rod cutting machines are used. Choosing the right machinery for this step is more important than the actual process.
This is because time, cost, efficiency, power, size, and portability are all different factors on which this decision is based on. One should always keep these factors in mind when buying a cutting machine
Selecting the best rod cutting machine will make your work at the construction site easy. It will provide more advantages to you in the long run than disadvantages. An ideal steel cutting machine will cut your rods faster, easier, in bulk, and cut various types of metals.
You may have heard of the common types of cutting machines used at construction sites. For example, miter saw, hydraulic cutting machine, angle grinder, circular saw, and torch.
But apart from these common tools, there are some machines which are less known but prove to be very useful.
We will mention the less-known machines and discuss their pros and cons in our article.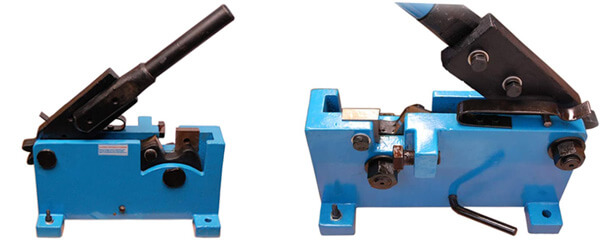 Our list starts with the most basic of the tools. It is a well dimensioned and small tool.
It uses a gear level transmission principle to work. The tool exerts pressure directly on the rod to produce shear and break it. The sliding part holding the blade is accurately guided between the plate of the body. This is done to prevent it from getting out of line.
This principle keeps the frictional losses to a minimum. It increases its efficiency so max output could be achieved from the operator's efforts.
The hand-levers on all models, in the initial position, are securely held by a retaining spring. This is done to prevent accidental falling.
Some of its pros and cons are:
Pros
Small in size and well dimensioned
Cheap
Easy to use
Cons
Requires manual labor
Can cut 1 steel rod at a time
Time-consuming
Very crude
Chop Saw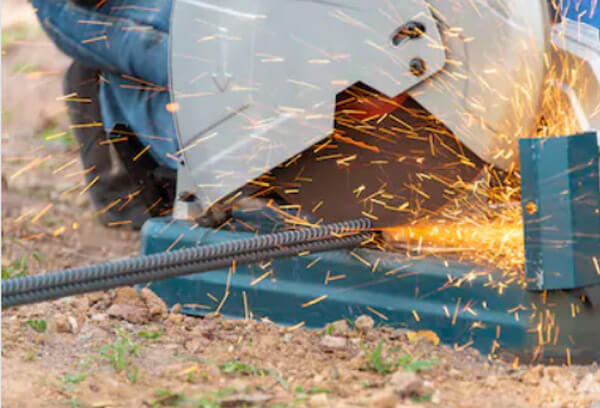 A chop saw is a very important tool when discussing steel rod cutting.
It is similar to a miter saw but differs in its blade. The diameter of its blade is 14". It uses a type of large carbide blade.
You have to adjust the speed of the device to your desired setting and cut through the steel rod.
It is a one-time investment of about $50-$200, but this is one of the most ideal options for cutting steel rods in a large quantity.
The resulting cuts formed by the chop saw are very clean and smooth. This is more accurate than the angled grinder and the circular saw.
The most commonly sold chop saws are from a famous brand called Bosch Tools.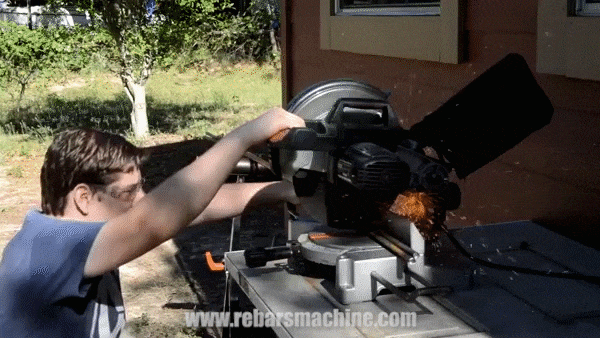 Pros
Uses a sharp blade for efficient cutting
Adjustable speed
Produces clean and smooth cuts
Can cut several sticks at once
Cons
Large blades could cause drastic accidents
Used only for non-ferrous blades
Makes very loud noises
Very heavy to move around
Portable Rod Cutter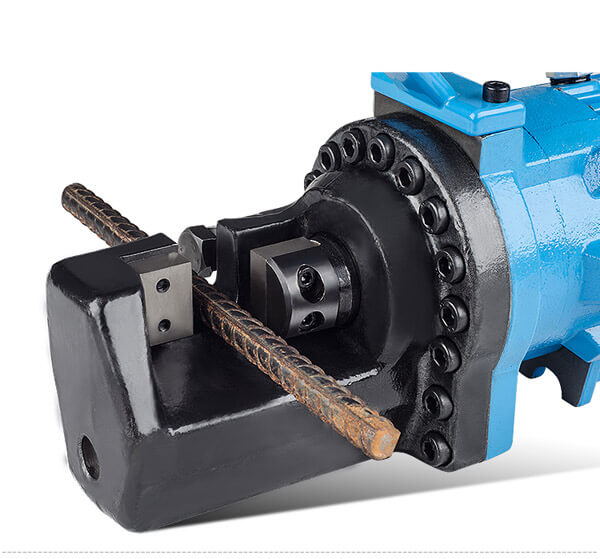 One of the newest inventions in the market is the use of the Portable rod cutter. It is a handheld portable device.
It is a small machine with a weight ranging from 22 kg to 32 kg. Its longest dimension is 20 inches in length. This means even a single worker can transport the machine from one corner of the site to the other.
It is a cheap machine and ranges from about $200 to $900.
It can work on different power sources like electricity, battery, or hydraulic power.
It can cut up to #8 steel rod Grade-60 in 5 seconds. The portable rod cutter can cut a single piece of rod in 5 seconds. The maximum number of rods it can hold is 2 rods of 16 mm.
It also has a lock trigger switch for safety. It is also wireless which can save a lot of tripping accidents at the site.
The best part about this machine is that it does not produce any sparks or flame.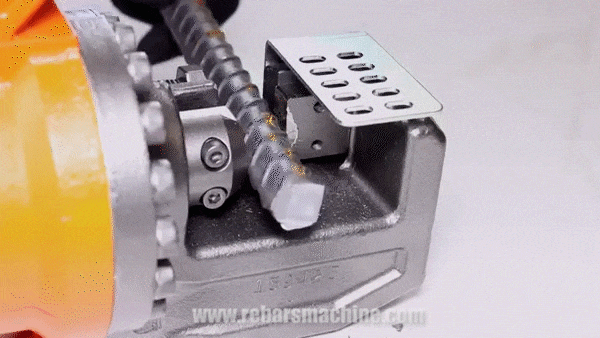 Pros
Cordless
Portable
Cheap
Different types can run on 3 different power source
Does not produce spark or flame
Cons
Requires technical skills to operate
Electricity type requires a source of electricity
Cannot cut rods of more than 32mm dia
The small size makes it easy to be stolen
Steel Rod Cutting Machine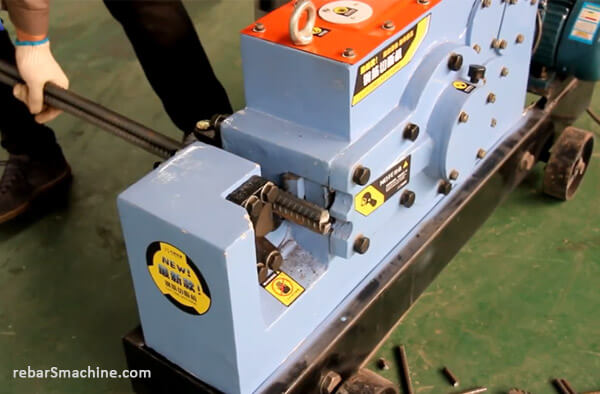 The cutting machine is a large-sized device used by professional companies.
It weighs 450-600 kgs but also has wheels to make it movable.
Its large size makes it easier to cut rods with large diameters and of more quantity.
The cost of the machine varies from $500 to $1000.
The steel rod cutting machine uses a motor with a speed of 1450 RPM. It can cut through multiple steel rods like butter.
Each variation of the machine has a different limit to the number and size of rods it can cut. The machine can hold steel rods up to 50mm and more. Its cutting frequency is 32 times per minute.
But you can cut multiple rods using this machine. The machine consists of a cutting clutch that allows the user to control the process.
Support brackets are provided in the machine to support the cutting process safely.
The machine has a lifting ring that allows you to carry it anywhere you like. The largest size of round rods any machine can cut is about 50mm and for TMT rods, it is 40mm.
Pros
Can cut all types of rods like round, angle, TMT and square rods.
Heavy capacity motor
Provides the best and cleanest cuts
Requires minimum effort
Good cutting capacity
Cons
Higher price, but a one time cost
Hard to move around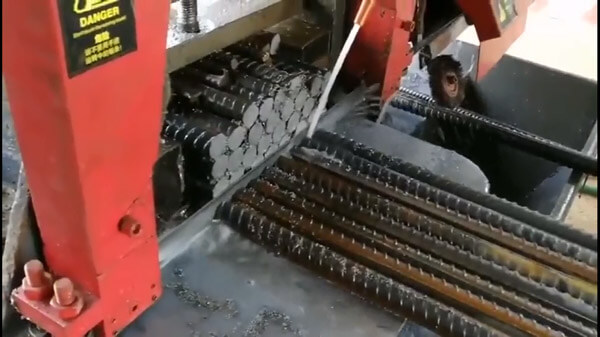 A steel rod cutting bandsaw is a machine with a double-column structure. It is available in both semi-automatic and automatic type.
It is a heavy machine with a weight of more than 1800 kg. It can cut round rods, square rods, TMT rods, flat rods, pipes, and channel rods. It is also used for cutting different metal rods like iron, steel, aluminum, and bearing steel.
It works on both electricity and hydraulic principles.
The sawing machine uses roller bearings and carbide blocks to guide the blades. This is done to extend the blade life. Its blade can be rotated and used for cutting both horizontally and vertically.
Its cutting capacity is can go more than 500 mm. While the blade cutting can go up to 70m per minuter.
The machine possesses a 4 KW motor for the blade, a 0.75 KW motor for the hydraulic pump, and a 0.06 KW coolant pump. The major component of the rod cutting bandsaw is its gearbox. The entire working life of the machine depends on the gearbox.
Its price ranges from $4000-$10000.
The main components of the bandsaw are its workbench, the control panel, the motor, and the operating lever.
It works in the following manner. All the reinforcement rods are tied together and laid on a long table. The point at which the cut is to be made is placed under the carbide blade. The rods are simultaneously flooded with water while cutting.
Cutting all the rods at once saves a lot of time at the construction site.
Pros
Hydraulic control of workpiece feeding
Can cut up to 500mm dia
Provides the best and cleanest cuts
Can cut a lot of rods at once
Most time saving
Cons
Very heavy
Needs maintenance
Expensive
Requires a big working space
Conclusion
We discussed the pros and cons of all the above machines. It is important to know that greater pros than cons do not mean that the machine is ideal. The pros and cons of the machine vary from customer to customer.
Some might not find the price an issue. While some may find more time-consuming machines the biggest problem. Similarly, some may not care about the functions and safety features of a machine.
This means that every customer assigns a certain weightage to each factor. He makes his final decision based on these calculations.
A customer whose only and top priority is to quickly complete the process will not care about the price. A customer whose only and top priority is to get the bare minimum will prefer the cheapest option.
Here is a quick buyers guide or factors to consider while buying a steel rod cutting machine:
Less time consuming
Price
Cutting capacity
Size
Quality of results
Safety Features