8 Brands Jumping Jack Compactor: Which Is Better For You
Soil compaction is the process of reducing the size of waste material or soil through a compactor. Compaction equipment offered by construction companies consists of three types: plate compactors, jumping jacks, and road rollers.
Roller compactors are used to compact crusher rock for use as the base layer underneath concrete or stone foundations.
Plate compactors have a vibrator (mechanical) baseplate and can be used to create a level surface.
The foot of the jumping jack compactor is smaller.Jumping jacks are mainly used to compact the backfill in narrow trenches for water or gas supply pipes etc.
In this article, we will be discussing the top 10 brands of jumping jack compactors and give you the recommendation on the best one.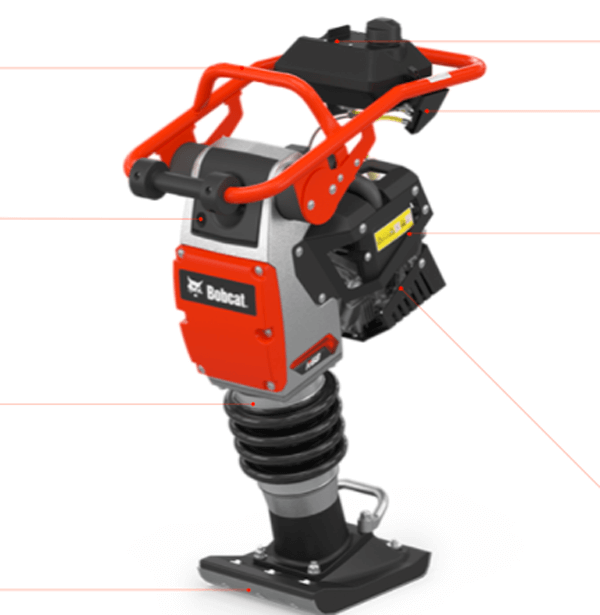 The Bobcat Company has been manufacturing compaction equipment for more than 60 years. With a compaction depth of 24 inches and 700 blows per minute, Bobcat's BR72 Upright Jumping jack compactor is simple and easy-to-use equipment. It has the following key features:
Gas-powered
Easy to use
3400lb impact force
700 blows per minute
24″ compaction depth
Feature a low center of gravity and a lightweight design for backfilling and narrow trench compaction
Compact, self-balanced design stands less than 44 in. off the ground
Bomag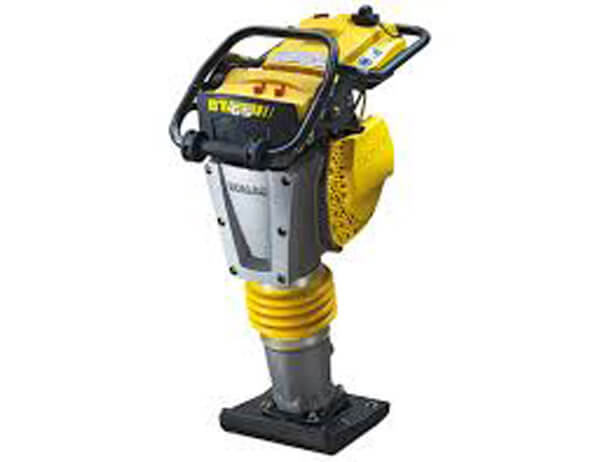 Bomag offers four different models of tamping rammers. With these BOMAG tampers, you can trench, install sewage systems, landscape, compact backfill, and fix foundations. Their strengths are operating ease, durability, and performance.
As a provider of compactors and multipurpose compactors, BOMAG offers decades of compaction experience. The machine's salient features are:
System for protecting the engine
Covering for engines to protect them
The level of oil is automatically controlled
Fuel system with dual filters
The steering bow is vibration-insulated
The housing of the air filter self-cleans
An effective protective covering
An all-in-one lifting device
Recoil starter
Castors made of plastic for loading
Frequency that is infinitely variable
Combination of an engine stop/fuel switch
Warranty Policy 3-2-1
Multiquip Mikasa
Mikasa offers three types of tamping rammers: MTX, MT, and Trench Rammer. Honda engines power all models. Vibrations will be reduced by 30 to 40% thanks to the specially designed vibration system. Following are few general specifications of their models:
Weight: 62 kilograms
Its dimensions are 1,035 x 370 x 730 mm
Size of plates: W1: 265 mm, L1: 340 mm
30 mm – 70 mm Jumping Stroke
Force of impact: 9.8 kN (1,000 kgf)
The impact number per minute is 644- 695
Capacity of the fuel tank: 2 liters
The Honda GX100 petrol engine provides 2.1kW of power (2.9PS) with a max output of 2.9PS.
Wacker

Designed for high performance and long life, Wacker Neuson's 4 stroke jumping jack compactors offer a long service life. This compaction process is achieved with high energy and high percussion rates in combination with a long shoe stroke and fast forward travel.
Compounding cohesive soils in trenches and other confined areas becomes easier thanks to the compact design and low center of gravity. It has the following features:
Simple operation and easy setup. One-touch operation for start-up, idle, and shutoff
Low oil protection: The unit will not start if the oil level is low, because a sensor will sense it and prohibit it from starting.
For longer life and improved durability, this engine has an innovative 4-stage air filtration system. To protect the engine during regular air filter maintenance, the system includes a last chance filter
Transport lug that is large and flexible
Transport rollers on the handle make loading and stowing easy
The filter performs very well due to its four-fold design (cyclone filter, paper lamellar filter, and double foam filter).
An engine's performance is optimal when the air intake is clean
Due to the high capacity of the filter, service intervals are long
Despite its robust construction, Honda's GXR 120 engines operate well below their maximum performance in normal operation. It extends the engine's service life and protects it.
Idle, start and stop all with one lever
Impact force from 3500 to 4500 lbs
Approximately 680 blows per minute.
Gas-powered engine.
Tomahawk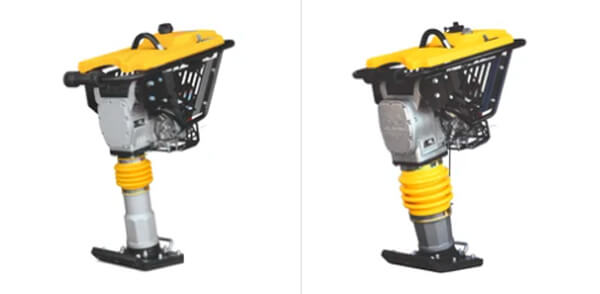 Worksite conditions can be tough with Tomahawk Jumping jack compactors. This jumping jack compactor provides excellent maneuverability in confined areas, including trenching, backfilling, and repairing asphalt. This is especially useful for compacting roadbeds with low water content as well as places where heavy vibratory plates are not effective.
Featuring a dependable Honda GX100 four-stroke engine, it is the go-to tool for the ultimate compaction of soils, providing low emissions and low noise levels, while delivering controlled and skillful jumping motions without harming the impact force.
Thanks to its specially crafted throttle control and heavy shock-mount system, the JX60H's 13 in. x 11 in.' laminated wood and steel shoe can absorb and resist the strongest vibration shock on the toughest job site applications. Its lightweight design offers optimum compaction depth and high-speed performance, delivering an incredible 3,350 lbs per square ft.
This engine cover guard and engine side guard are tough and reliable, protecting the engine and recoil starter during operation. The JX60H has a polyurethane, ribbed bellow made in Germany for long life and durability, as well as a plastic oil tank. With the help of its ergonomic design, it can be easily loaded and transported, thanks to a specially designed trolley kit, and can be used with ease and convenience. It has the following features:
Honda GX100, 98cc, 3 HP
Perform field density testing and nuclear densometers and achieve 100% compaction ratings
Laminated 13 in. x 11 in. wood and steel shoe
Using 3,350 pounds of force to control jumping motions.
Compaction of cohesive and granular soils up to 26 inches.
Easily load and unload with the lifting handles and rollers
Bellows with ribs, manufactured in Germany, extend service life
Three-year warranty on the engine and a one-year warranty on the product
EPA and CARB certified
Toro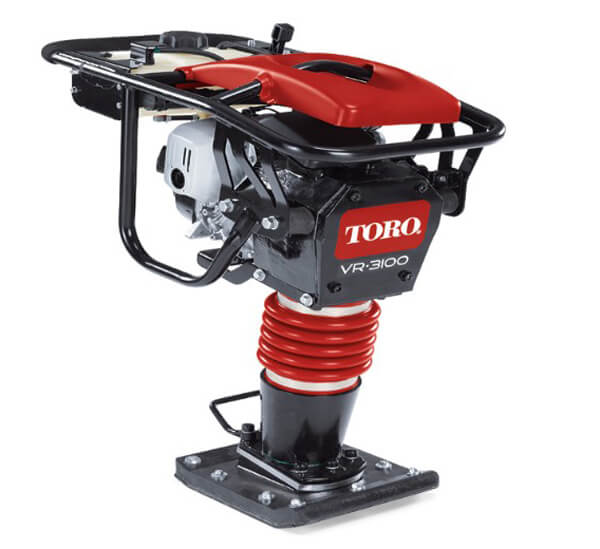 Compacting footings, foundations, and utility lines with a 3,500 lb (1,587 kg) impact force and precision components such as forged pistons and solid snubbers, the VR-3500 is ideal for heavy-duty jobs. It has the following features:
The steel-reinforced base plate on a high-impact poly shoe withstands more abuse.
Vibration is cushioned by heavy-duty rubber shock mounts, so the operator feels less discomfort.
Easily check the fuel level with the polyethylene tank's see-through walls.
Engines are protected by side shields and wrap-around handles.
Impact force 3500 lbs
655 blows per minute
Weber

They have both gas and battery-powered models. With significantly increased stroke and impact power, these jumping jack compactors compact even faster and more efficiently.
Weber MT has not only improved the impact power but has also made significant progress toward operational comfort. The narrow guide bar, the optimized tamping foot, and the modern engines all make labor easier.  It has the following features:
Because the vibrations are low, the operator can work for longer periods.
A powerful, rugged, and proven tampering system.
Engines with a four-stroke piston and low emissions.
Defend the engine from harmful contaminants with an effective multistage air filtration system.
Inline and tank filters clean the fuel.
Impacts from stones are prevented.
Bellows are placed at a safe height.
An output tamping lever with notches controls the throttle.
Warranty of two years without restrictions.
The enormous impact force of 4700 lbs.
It can offer 700 blows per minute.
A gas-powered engine by Honda.
Hitachi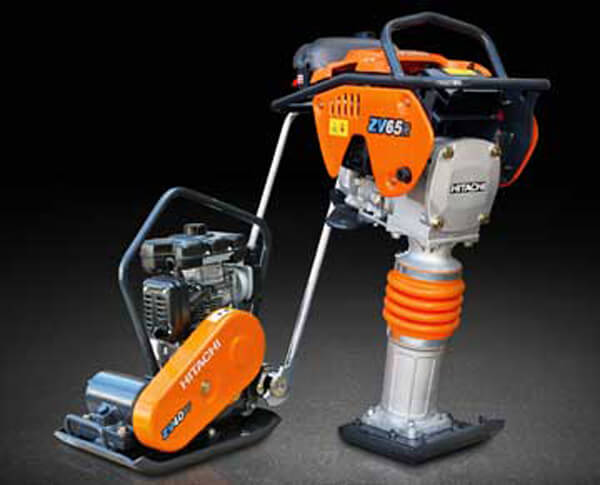 With the Hitachi ZV-R series, operators have access to powerful compaction forces. By combining reinforced base plates with safety cushions, the machine can withstand distribution hazards such as drops during distribution.
As a result of its compact design, this machine offers improved stability and excellent maneuverability in confined areas. For better control on uneven surfaces, ramming shoes are more powerful, which increases their propelling power.
It has the following features:
An easy-to-use throttle lever and a close-to-hand engine stop switch give the operator convenient control.
A steel cover protects and strengthens the engine.
Additionally, they are easy to maintain, and several optional components are available that can increase availability and productivity.
Low hand-arm vibrations
Up to 10000 pounds per blow
Gas-powered
Conclusions
In our opinion, the best models out there are by Wacker, Tomahawk, and Hitachi. They would of course be expensive models. If you are a little bit tight on the budget, don't worry. Shuanglong Machinery Co. Ltd. jumping jack compactors are great. They are affordable, have good quality, and deliver perfect results.