4 Brands Threaded Rod Cutter: Which One Is Better For You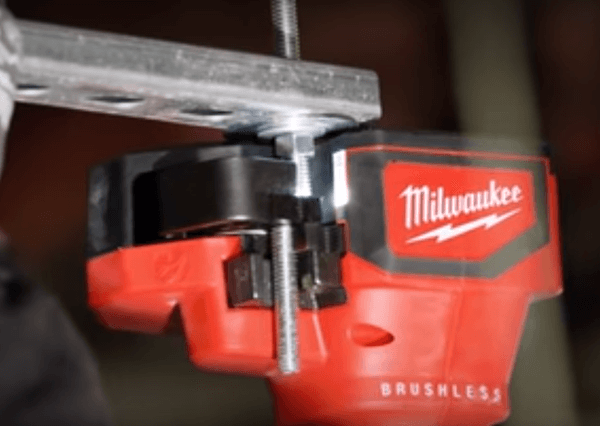 On construction sites, a threaded rod is used to secure pipe, conduit, ductwork, and other construction elements. Alloy steel is used for the head, while heat-treated steel is used for the cutting dies.
Cutting soft steel threaded rods with threaded rod cutters is fast, clean, and eliminates the need for grinding or filing. In this article, we have reviewed 4 threaded rod cutters from different brands.
Milwaukee Threaded Rod Cutter
The M18TM Brushless Threaded Rod Cutter is Milwaukee's dedicated solution for cutting mild steel, stainless steel, and coarse 1/4″, 3/8″, and 1/2″ threaded rods on the job site.
The cordless threaded rod cutter is powered by a brushless motor that delivers 400+ cuts and is powered by an M18TM REDLITHIUMTM 2.0Ah battery.
By rotating the dies, you can cut threaded rods of multiple sizes with one tool. You can thread a nut on by hand without having to file down the ends thanks to the all thread cutter's clear line of sight and burr-free cuts.
To reduce chips and sparks while cutting, the rod cutter uses optimized blade geometry and cut speed. You can perform fast, repetitive cuts thanks to its auto-opening jaw, while a reverse button helps prevent accidental cuts.
One-handed overhead trims are easier with the centered grip, and benchtop cutting is easier with the flat horizontal design.
Dewalt Threaded Rod Cutter
Threaded Rod Cutter (DCS350) cuts a range of threaded rod sizes, such as 1/4″, 3/8″, and 1/2″ mild steel coarse thread rods, as well as 1/4″ and 3/8″ stainless steel coarse thread rods.
Rotating the cutting die to the size you want to cut will allow you to cut threaded rods of three different sizes using the same tool.
By eliminating chips and sparks during cutting, the unit provides an easy way to thread on fasteners without having to clean threads. When cutting or trimming threaded rods, the Threaded Rod Cutter increases control by eliminating fast-moving cutting blades or wheels that can bind up.
With the tool's speed, you will achieve up to 350 3/8″ cuts on a single battery charge. The unit comes with a bright LED work light, a forward/reverse/lock-off switch, and a hanging hook. A complete line of replacement dies and accessories is also available, but not included.
Makita Threaded Rod Cutter
Makita has developed a cordless threaded rod cutter for cutting steel rods with 18V LXT Brushless Cordless Threaded Rod Cutter. A 5.0Ah battery (sold separately) can cut up to 1,300 threaded rods and 1,200 stainless steel threaded rods with 3/8″ coarse threads.
As a result of its compact design, it's perfect for cutting threaded rods installed overhead. It provides spark-free cuts that are clean and burr-free, allowing fasteners and nuts to be hand-threaded easily.
With one 18V LXT 5.0Ah battery (not included), you can cut up to 1,300 pieces of mild steel threaded rod and 1,200 pieces of stainless steel threaded rod.
The device can be used to cut threaded rods with 1/4″ and 3/8″ coarse thread diameters. A more ergonomic handle provides a more comfortable hand position that reduces fatigue.
With a size of 7-7/8″ and weighing only 7 lbs. with a battery (battery not included), this device is remarkably compact.  When a cut is complete, an automatic blade stop mechanism returns the blade to its open position, allowing the operator to continue.
By eliminating carbon brushes, the BLTM Brushless Motor runs cooler and more efficiently for longer life. A two-position threaded rod guide allows precise cutting by stabilizing the material.
For better visibility, LED lights with afterglow illuminate the work area. The retractable hook allows the tool to remain close by, but out of the way
Hitachi Threaded Rod Cutter
With minimal damage to the workpiece, the 305-Hitachi-cordless-studder cuts quickly and quietly with no sparks or chips. it can do high-speed cutting of studs with up to 660 charges per charge (M10).
Multi-edged blades prolong blade life, and the stud mount hole facilitates rapid cutting of uniform lengths. Two 5.0-Ah Li-Ion batteries, a charger, a wrench, M10 cutters, an M10 deburring tool, and a carrying case are included.
Cuts quickly and quietly without sparks or chips. Damage to the workpiece is minimal. Multi-edged blades extend the life of the machine.  A convenient stud mount hole enables uniform length cutting quickly.
Conclusions
These threaded rod cutters are in most cases powered by the battery and can cut bar sizes ranging from 1/4" to 1/2".
Makita rod cutter can deliver the maximum number of cuts per single charge of the battery. Al the rod cutters feature an LED to improve visibility.
The cutters are also able to eliminate chips and sparking during the cutting due to the specialized types of blades used in them. These cutters are in most cases cordless and their batteries can be changed as desired.