6 Kinds Of Rod Cutter: Which Is Suitable For You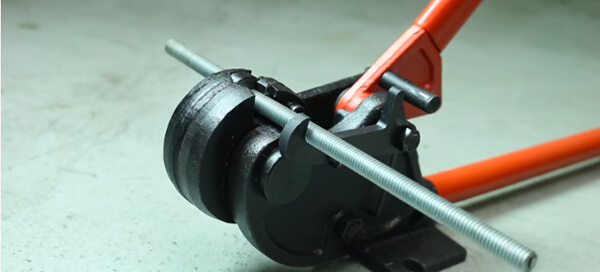 In any construction project, rebar is one of the most important and most commonly used materials. In addition to its primary purpose of reinforcing concrete, it has many other uses as well.
Rebar is capable of reaching lengths of 60 feet or more when manufactured. It is necessary to use different lengths of steel for different structures.
Several different machines are used to cut rebar, some of which are listed below:
Manual Threaded Rod Cutter
Parts housing the dies, base connection, and handle are designed according to the manufacturer's preferences. All of them work the same way: by lowering the handle to the base, while the dies cut the material.
One die of a threaded rod cutter is fixed to the base and cannot move, whereas the other die moves with the handle. This type of cutter is the cheapest alternative out there. However, it requires the largest human effort and is labor-intensive.
Electric Threaded Rod Cutter
Powered by a battery, this cordless threaded rod cutter delivers 400+ cuts with a brushless motor. By rotating the cutting dies, you can cut threaded rods in multiple sizes on one tool.
With all thread cutters, you get the clearest line of sight and the smoothest cuts possible, so you can thread a nut on by hand without having to file down the ends.
During cutting, the rod cutter features optimized blade geometry and cut speed to prevent chips and sparks. Automatic jaw opening enables fast, repetitive cuts, while a reverse button prevents accidental cuts.
While the centered grip provides you with the best balance for one-handed overhead trimming, the flat horizontal design ensures a stable surface for benchtop cutting.
Manual Steel Rod Cutter
It is also known as a manual shear cutter. You can change any setting with this manual shear because it is manually operated.
Furthermore, the metal shear can be bolted to a bench, table, or the ground, giving you more flexibility. You do not need to bend your back every time you cut a subject with a long handle, especially if you have back pain.
This metal shear has the advantage of being able to cut multiple materials besides sheet metal, round steel, rebar, and flat steel. The cutting capacity for round steel is 1.1-Inches, for flat steel, it is 1.5×0.4-Inches, and for square steel, it is 1.1×1.1-Inches.
Besides having a solid steel frame, this metal shear increases stability and safety at the same time by providing a solid steel frame that can be used for many years.
Manual Steel Rod Cutter Scissor
It just works like a scissor. It has two arms that when moved close to each other will perform the cutting operation at the jaws.
Instead of using It like the scissor to cut down the paper, what workers usually do is fix the one arm to firm support while the other arm is being moved to cut. The longer is the arm, the less is the force required. This is mainly due to an increased amount of moment arm.
Obviously, as the arm length increase, the price of the machine will also increase and it might become an infeasible alternative to the electric steel rod cutter.
It can usually cut bars with small diameters. The greater is the bar diameter, the more is the force required. Therefore this machine is also labor intensive.
Electric Iron Rod Cutter Circular Saw
Circular saws are powered saws that use a toothed or abrasive disc or blade to cut materials by rotating around an arbor in a rotary motion.
The Circular Saw delivers faster, cooler, cleaner, and more affordable metal cutting. You can forget about the showers of hot metal chips and sparks that once threatened workers on metal construction sites.
By shearing the metal, the shears produce a virtually spark-free wake and cool, burr-free edges that do not require post-cutting finishing.
A magnesium blade shield effectively contains cool cut waste, which is channeled into the saw's integral Chip Tank. In addition, cool cutting allows materials to be handled almost immediately following a cut, reducing downtime.
With a powerful motor and razor-sharp, cermet-tipped teeth, it is capable of tearing through tough cuts without hesitation. Cold cutting metal is a valuable process no matter how you slice it.
For a comfortable ride, it is equipped with a number of serious comfort features. With their soft, tactile gripping surfaces, the tool's rear and side handles are designed to comfortably fit any hand.
By canting the handle forward and wrapping it completely around the motor housing, it offers maximum comfort and control in any cutting orientation. Shield buckle makes it easy to remove the blade shield to dispose of waste or change blades.
To ensure fast, easy operation during, before, and after the cut, the remaining saw controls are conveniently located.
Hydraulic Rod Cutter
Unlike saws with abrasive blades and cutting torches, electric shears are designed for cutting rebar without sparking, so they are called cold-cutting shears. They are widely used in construction. They are lightweight and portable. The operation is easy and convenient.
Hydraulic bar cutters cut #6 rebar in 2 seconds as opposed to a gas saw in 5 seconds and cut-off tool in 7 seconds. In addition to improving productivity, the bar cutter reduces risk mitigation time by eliminating manual labor.
A durable blade makes a quick, straight cut after the rebar is inserted into the cutting head. The cut is completed in two seconds. The bar cutter produces minimal vibration, thus preventing HAVS (Hand Arm Vibration Syndrome).
Hydraulic bar cutters are driven by an external hydraulic pump for optimal power and a higher duty cycle than other cutter types.
Which One You Should Choose
Now you know the different types o bar cutter available for cutting metal bars but you would be wondering which one have to select for your project. Well, don't worry we got you covered. Here is a guide by us to help you choose the right model:
If you have a small construction job with small bar sizes:
Well in this case the best option is to go for a manual thread rod cutter, or manual steel rod cutter scissor or manual steel rod cutter. They can cut small diameter bars with less effort.
If you have a small construction job with large bar sizes:
Well in this case the best option is to go for a hydraulic rod cutter or electric rod cutter scissor. They can cut large diameter bars with less effort and without producing any site hazard.
For large construction projects with a variety of bar sizes
The best option out there in this case is an electric iron rod cutter saw. It can cut quickly a large number of bars in a variety of sizes. It may lack in the accuracy of cut but that does not matter much if you have a large number of bars to cut.
Conclusions
In this article, we have described the six most common types of bar cutters that are highly portable. They are ideal for small to medium scale bar cutting operations. For large scale cutting, obviously the best options out there are the cutting machines.